The axis on which the Indian family - system survives is always the Woman, be she a mother or a wife. But sometimes a crisis comes when this axis gets up-set. Untimely death of the husband, abandonment by the in-laws, non- acceptance by the parents, old age, disregard and non-care by the children when fallen sick. These are real life circumstances which make the women an ABALA, helpless in true sense. We intend to help empower such support less women with your cooperation and your good will.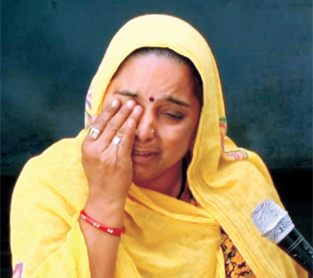 Mamata Kunwar
Case 1
Help Other Poor Like Me: Mrs. Mamta Kunwar
Smt. Mamta Kunwar (30 years old): Her husband was a driver and addicted to different types of drugs. He used to beat her after getting drunk. Harassed by such behavior, Mamata, with her two very young daughters and a son, went away to her parents. How long could she live there also as only one of her sisters could understand her pain. After a few years when she returned, she found out that her husband was in a bedridden with T.B. and there was not a grain to eat in the house then two days later (about 4 years ago) he died. Now Mamta, widowed with her three young children landed into a very difficult situation. By daily wages and some help from her sister Mamata somehow brought life back on track and continued to send her children to school so that they could become self-reliant. Even the children also understand how much trouble their mother is taking to bring them up. Elder daughter (crying) says that despite the difficulties her mother is managing to educate them. She is proud of her mother and is with shoulder to shoulder with her and would take care of her when she grows up. Mamta Kunwar expresses gratitude to the kind donors of Tara Sansthasn and says that it has helped her greatly so that she did not have to beg before others. She wants other people like her also receive similar help.
Case 2
With the help of donors, I will somehow live on: Mrs. Bhamu
The husband of Bhamu Kunwar (35) died a few years ago. She has no children and living alone as a daily wages worker. The wages were rarely available and often she faced starving situation forget about clothes or medicine. God only knows how she barely survived. Says Bhamu, "Many a times she wished God killed her of heart failure so that the whole problem of struggling to live was over. But now Tara Sansthan is providing Rs.1000 / - under Gauri Yojana to meet her bare needs. The situation has improved and she need not worry for food if she does not get wages sometimes. Bhamu kunwar offers many thanks to the Sansthan and says that she will somehow survive with the support from donors.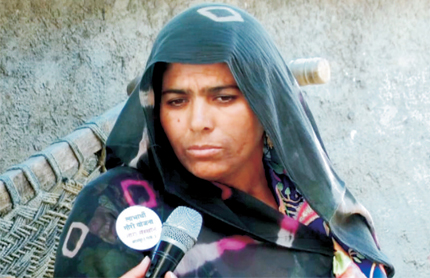 Bhamu Kunwar